Bringing transparency to emerging real estate markets.
posted @ 12:00am, Monday 22 December 2014.


DECEMBER, 2014






For more Turkey Residential Market Data and other data series visit REIDIN


posted @ 12:00am, Friday 19 December 2014.
Recent exogenous shocks in the oil and currency markets have led to concerns about the resultant ripple effects that already have and will continue to reverberate throughout the real estate market. Undoubtedly, there has been a correlation between the oil and real estate markets as well as the stock markets. This correlation implies that the recent sell off will have an adverse impact on real estate prices, especially in the trophy segment as Russian buyers were predominantly purchasing at the higher end of the spectrum.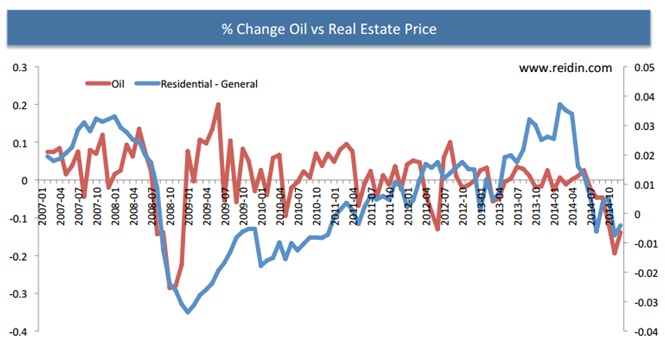 A longer term correlation between oil and real estate prices is much lower, implying that there have historically been very little impacts of oil prices taken place. On the other hand, the long term correlation remains high with the equity markets. This high correlation indicates that there is likely going to be a softening at the higher-end of price range in the real estate market (by approximately 15-20%), unless equity prices recover in the near term.

Correlations between real estate and other currencies (Euro and GBP) have also been high. Especially Euro and recent Dollar strength reaffirms our analysis that cash returns from real estate will dominate over capital gains as the market has entered "The New Normal".

A return analysis of major asset classes over an 8 year cycle reveals that real estate has significantly outperformed other asset classes, including gold. Given the recent turmoil and the correction that is already underway, investors would be well advised to return to first principles by looking at the longer term fundamentals that remain firmly in place.

Note: Unitas is the author for these research reports and REIDIN is the sole data provider for these research reports.

To read the full report click here: http://www.reidin.com/news/showNews/ae_reidin-reidincompnews-20141219-1/dubai-shocks-shifts-amp-a-return-to-first-principle.html


About REIDIN
REIDIN is the leading real estate information company focusing on emerging markets. REIDIN offers intelligent and user-friendly online information solutions helping professionals access relevant data and information in a timely and cost effective basis.

Concord Tower, No: 2304,
Dubai Media City,
PO Box 333929 Dubai,
United Arab Emirates
Tel. +971 4 433 13 98
Fax. +971 4 360 47 88
www.reidin.com
info@reidin.com


About Unitas
Unitas believes in in-depth planning and discipline as a mechanism to identify and exploit market discrepancy and capitalize on diversified revenue streams. The purpose of Unitas is to manage, direct, and create wealth for our clients.

Palladium Tower, No: 103,
Jumeirah Lake Towers,
PO Box 500231 Dubai,
United Arab Emirates
Tel. +971 4 447 72 20
Fax. +9714 447 72 21
www.unitasconsultancy.com
info@unitasconsultancy.com


posted @ 12:00am, Monday 15 December 2014.
As real estate asset prices have been stabilized and they started to trend lower in certain areas, Dubai has entered the 'new normal' with investors beginning to hunt for stable rental returns. Historically, the greatest price appreciation has been occurred in the larger bedroom sizes (such as the three-bedrooms) giving credence to the trophy buying phenomena. However, as prices start stabilizing, a price growth compression begins within the unit sizes. In addition, we have seen a strong rally in price growth of mid-income communities in the last year compared to trophy communities, which has not been the case historically.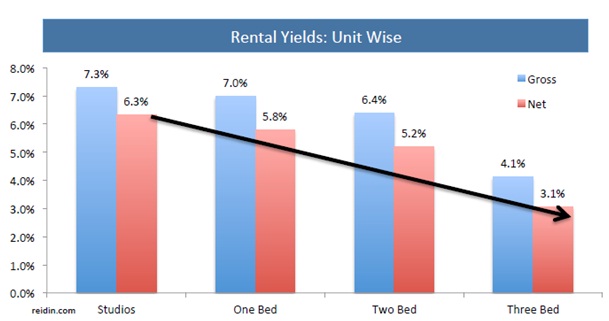 An analysis of the rental yields by unit sizes across monitored areas shows an inverse relationship between unit sizes and yields; the higher the unit size, the lower the yields. This trend is empirically observed in most real estate markets. Market trends recently indicate that investors' buying pattern are changing in order to account for the larger sizes as owner-occupiers become a more prominent force in the market.

A comparison between the prices and the rental growth rates reveals that prices outperformed in the last four years by 15%, resulting in a yield compression across the board. The two-bedrooms have the least gap between the rent and the growth, whereas studios have the largest gap. This indicates that the latter appears to be out-priced sizes across the board, while both investors and developers will equally underperform serving to this area.

As the market matures, we opine that the demand for the two and three-bedroom units will relatively be larger than the historical norms, imitating trends in other developed economies. Therefore, the supply trajectory will need to adjust accordingly. In the interim period, it is likely that this segment for the market will outperform the others.


Note: Unitas is the author for these research reports and REIDIN is the sole data provider for these research reports.

To read the full report click here: http://content.reidin.com/PublicReports/HuntforYields.pdf


About REIDIN
REIDIN is the leading real estate information company focusing on emerging markets. REIDIN offers intelligent and user-friendly online information solutions helping professionals access relevant data and information in a timely and cost effective basis.

Concord Tower, No: 2304,
Dubai Media City,
PO Box 333929 Dubai,
United Arab Emirates
Tel. +971 4 433 13 98
Fax. +971 4 360 47 88
www.reidin.com
info@reidin.com


About Unitas
Unitas believes in in-depth planning and discipline as a mechanism to identify and exploit market discrepancy and capitalize on diversified revenue streams. The purpose of Unitas is to manage, direct, and create wealth for our clients.

Palladium Tower, No: 103,
Jumeirah Lake Towers,
PO Box 500231 Dubai,
United Arab Emirates
Tel. +971 4 447 72 20
Fax. +9714 447 72 21
www.unitasconsultancy.com
info@unitasconsultancy.com