Bringing transparency to emerging real estate markets.
posted @ 12:00am, Tuesday 30 September 2014.
REIDIN launches its Housing Market Professionals Sentiment Index (HMPSI) for Dubai.

Dubai - UAE, 30 September 2014: REIDIN, the leading real estate information company released today the Dubai Housing Market Professionals Sentiment Index to be the first available indicator of near future Dubai residential property price trends.

REIDIN HMPSI, is a quarterly survey conducted amongst around 3000 real estate professionals such as Agents, Developers, Bankers and Consultants and provides exclusive information in this sector. With the aim to analyse the current market sales and rent price trends versus the sentiment of real estate professionals concerning the housing market in the next three months, it also providesa valuable early snapshot of the current and future house sales and rent prices in Dubai.

The index is calculated using the internationally recognized "Balance Method", with values indicators within the range of 0-200. An index score of 100 means neutral sentiment, over 100 is positive and below 100 is negative. Closer to 0 means more negative while closer to 200 means more positive sentiment.

Based on the compiled results of the first survey, REIDIN HMPSI Sales Volume Sentiment Index Score is moderately positive at 102.5. The most optimistic group of professionals is Agents with a HMPSI Sales Volume Sentiment Index Score of 132, followed by Financial Institutions at 106 and followed by Developers at 82. Consultants are the most pessimistic group of professionals with an index score of 79 in contrary to Agents, Developers and Financiers.


REIDIN HMPSI Sales Price Sentiment Index Score is moderately negative at 84.8. The most optimistic group of professionals are Developers and Financial Institutions together with a HMPSI Sales Price Sentiment Index Score of 94, followed by Agents at 88. Consultants are the most pessimistic group of professionals with an index score of 63 versus Agents, Developers and Financiers.



REIDIN HMPSI Rental Price Sentiment Index Score is moderately positive at 106.8 and HMPSI Rental Volume Sentiment Index Score is positive at 140.9.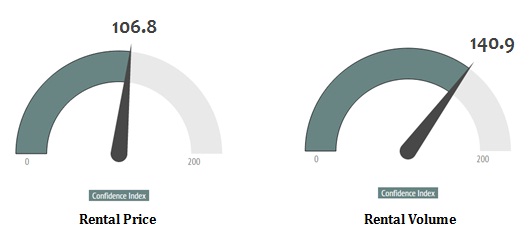 Overall REIDIN HMPSI Economic Outlook Sentiment Index Score among professionals is very positive at almost 140.5.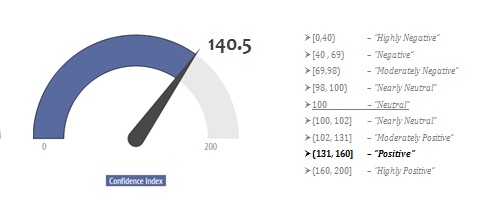 Ahmet Kayhan CEO of REIDIN.commented: "With a positive Economic Outlook of 140.5, we are happy to share these results with the Dubai real estate community. While the market has been slowing by transaction volume and sales price increase pace, we believe the fundamentals of Dubai still stay strong supporting the base for an overall positive Sentiment over the economy and real estate sales and rent prices". He added: "REIDIN will be conducting this survey every quarter, by gathering detailed level of data and information about the Housing Market Trends and Future Expectations towards Supply, Demand, Developer Brands, Mortgage Rates and will be available to our clients and market participants via REIDIN's online channels."

REIDIN Dubai Real Estate Business Sentiment Index is developed by REIDIN Data&Research Teams.

Methodology
The sampling frame is derived from a sampling of 3000 Agents,Developers, Financial Institutions/Banks, and Consultants. A standardized format questionnaire is directed to randomly selected business professionals, via a web-based survey system. Sentiment level is measured around topic of Price Appreciations, Total Sales Volume and Leasing Volume, Supply/Project Launches, Financing Availability and Economic Outlook.

About REIDIN
REIDIN.com is the leading real estate information company focusing on emerging markets. REIDIN.com offers intelligent and user-friendly online information solutions helping professionals access relevant data and information in a timely and cost effective basis. REIDIN.com "Data & Research Team" together with a global network of Information Partners endeavors to provide high-end analysis and research support.

Contact us:
Dubai Office: +971 4 433 13 98
Istanbul Office: +90 212 347 59 60(pbx)
Web: www.REIDIN.com
Mail: info@reidin.com


posted @ 12:00am, Monday 22 September 2014.

SEPTEMBER 2014



For more Turkey Residential Market Data and other data series visit REIDIN.com


posted @ 12:00am, Monday 22 September 2014.
Monday 22 September 2014

Dubai, UAE: According to analyst reports, the UAE's property market has experienced improved stability during the first six months of 2014, with the rate of expansion steadying. Backed by a robust economy and a stable real estate sector, the outlook for the UAE remains positive for the remainder of the year.

Ahead of Cityscape, YouGov surveyed 500 UAE residents who intend to buy a property in the Emirate of Dubai over the next 12 months. The consumer real estate survey is jointly designed with REIDIN, a real estate information company focusing on emerging markets with headquarters in Dubai and Istanbul. Respondents were sourced using YouGov's online panel, the largest pure research panel in the region. Prospective buyers were identified as those who answered yes to the question "In the next 12 months, do you or your family intend to purchase any property in Dubai?"

Amongst respondents, attitudes towards real estate are positive. 73% expect demand for real estate to increase over the next 12 months and only 11% are pessimistic about sourcing finance for purchase.

Residential Property Insight
Of those surveyed, a substantial 91% say they intend to buy a residential property and 17% a commercial property within the next year. Of those intending to buy a residential property, 76% plan to buy one property and only 4% say they plan to purchase four properties or more. Amongst this group, approximately one in every five (18%) surveyed intend to buy a villa or townhouse. Whilst most of those surveyed would look for an apartment, prospective apartment buyers show an interest in a number of different formats: 28% intend to purchase a property with one bedroom, 43% - two bedrooms, 24% - three bedrooms or more and 11% say they intend to purchase a studio apartment.

When looking at the age of properties - UAE residents typically favour new developments, with 72% of residential purchasers saying they would consider buying a new construction. By comparison 45% would consider buying second hand properties (1-5 years) and just 9% would consider a property that is five years old or more.

Among the most popular locations where prospective purchasers intend to buy a residential property are Dubai Marina, Dubai Silicon Oasis, Mirdif, Discovery Gardens, Jumeirah Lake Towers, Dubai Sports City, Al Barsha, Motor City, JBR and Emirates Hills. Reflecting consumer confidence in the availability of finance, just 16% of residential property buyers in Dubai intend to purchase fully in cash, and 38% expect to pay using a mortgage or finance.

Commercial Property Insight
When looking more closely at the behavior of prospective commercial property buyers, 49% of those surveyed say they are interested in buying to let, 24% are planning to buy for personal use and 27% favour a mixture of personal use and renting out.
When it comes to finance, nearly a quarter (23%) of prospective commercial property buyers say they intend to buy in cash. In addition, around half (52%) intend to buy directly from a developer. Amongst those surveyed, popular locations within Dubai to purchase a commercial property include Jebel Ali, Dubai Marina, Akoya, Dubai Investment Park, Jumeirah and Falcon City.

Property Developer Insight
Amongst the 500 potential purchasers surveyed, preferred developers to purchase properties from include Emaar Properties, Dubai Properties, and Damac Properties. When considering how prospective buyers select a property developer, overall, a significant 44% say reliability is the main criteria by which they make their decision. Development quality and development finishing is the most important consideration for 40% of the market, and just 10% say they place the most importance on a "high return" when choosing a developer.

Commenting on the findings, YouGov's Commercial Director, Ali Draycott, said, "This insight shows the growing appetite for real estate amongst consumers from all nationalities, not just Emiratis. It also illustrates that despite fears of a bubble in late 2013, the UAE government has been successful in restoring confidence in what is an increasingly diverse real estate market. To capture positive consumer sentiment, developers need to focus on communicating their reliability alongside the unique benefits of their developments.

YouGov's findings reveal potential purchasers are considering a range of formats and locations when thinking about their property purchases, and with a number of new developments coming online, competition in the market is likely to be fiercer than ever."
"REIDIN's CEO, Ahmet Kayhan said: At REIDIN we conduct market and property/project level real estate price indices and analysis and forecasting modules. Our property price indices go back to 2003 for Dubai and 2009 for Abu Dhabi covering sales and rent prices for residential, office and land segments. What we were missing was the consumer side of the story. Now, with these surveys we would like to better understand the demand dynamics of the market and analyze if there is any significant correlation between the consumer propensity of now and fundamental property market indicators of near future such as sales/rent prices, volume and economic outlook."